It is the largest protected environmental zone in the Canary Islands, with an area of more than 46,000 hectares, ranging from 2,718 meters above sea level in Alto de Guajara to 300 meters above sea level in some areas.
It is an area that surrounds the Teide National Park in which Canarian forests and pine forests predominate. It covers a large number of municipalities on the island (Adeje, Guía de Isora, Santiago del Teide, Los Realejos, La Orotava, Icod de los Vinos, Güímar, Arico, Fasnia…).
The park is beautiful, a natural wonder for the senses. An ideal area where you can practice various sports and activities such as hiking, mountain biking, climbing and canyoning, paragliding, and even zip-lining.
Inside the park there are various recreational areas, picnic areas and areas set up for camping (it is necessary to request a permit).
Various forest tracks and trails cross the Corona Forestal, for the enjoyment of families, children and pets.
The trade winds reach the Corona Forestal and their advance is interrupted. This often causes a significant accumulation of clouds, popularly known on the island as the sea of clouds.
This cloud layer is used on the island through an intricate network of galleries and channels, which take advantage of the porosity of different layers of stones and volcanic materials to collect water from the condensation of these clouds.
What to see in the Corona Forestal Natural Park?
Anywhere in the park you can find spaces to enjoy nature and open spaces. However, we point out some peculiar or popular areas within the Corona Forestal:
Paisaje Lunar (lunar landscape): peculiar rock formations shaped by erosive phenomena that will give the sensation of walking on the moon.
Las Lagunetas: area that has a recreational area, tracks and trails, as well as the location of the Forestal Park (zip lines).
Alto de Guajara: the highest point of the park, with views of the Ucanca plain, Teide volcano and Las Cañadas del Teide.
Camping areas: the most popular within the Corona Forestal are those of Madre del Agua, Arenas Negras, El Contador and Emilio Fernández Muñoz.
How to get to the Corona Forestal Natural Park?
By car there are 4 main access roads. From La Esperanza on the TF-24, from Arafo on the TF-23 (Loros road), from La Orotava and Vilaflor on the TF-21, and from Guía de Isora on the TF-38. Basically, taking any road that leads to the Teide National Park you will arrive at the Corona Forestal.
By bus you can take line 342 from Adeje to Teide. Line 348, which has the same destination but leaves from Puerto de la Cruz.
To fully enjoy the experience, it is advisable to visit several areas of the park, make stops and visit different points. For this, the ideal is to have an official taxi, with which you can arrange a tour of the Corona Forestal.
More images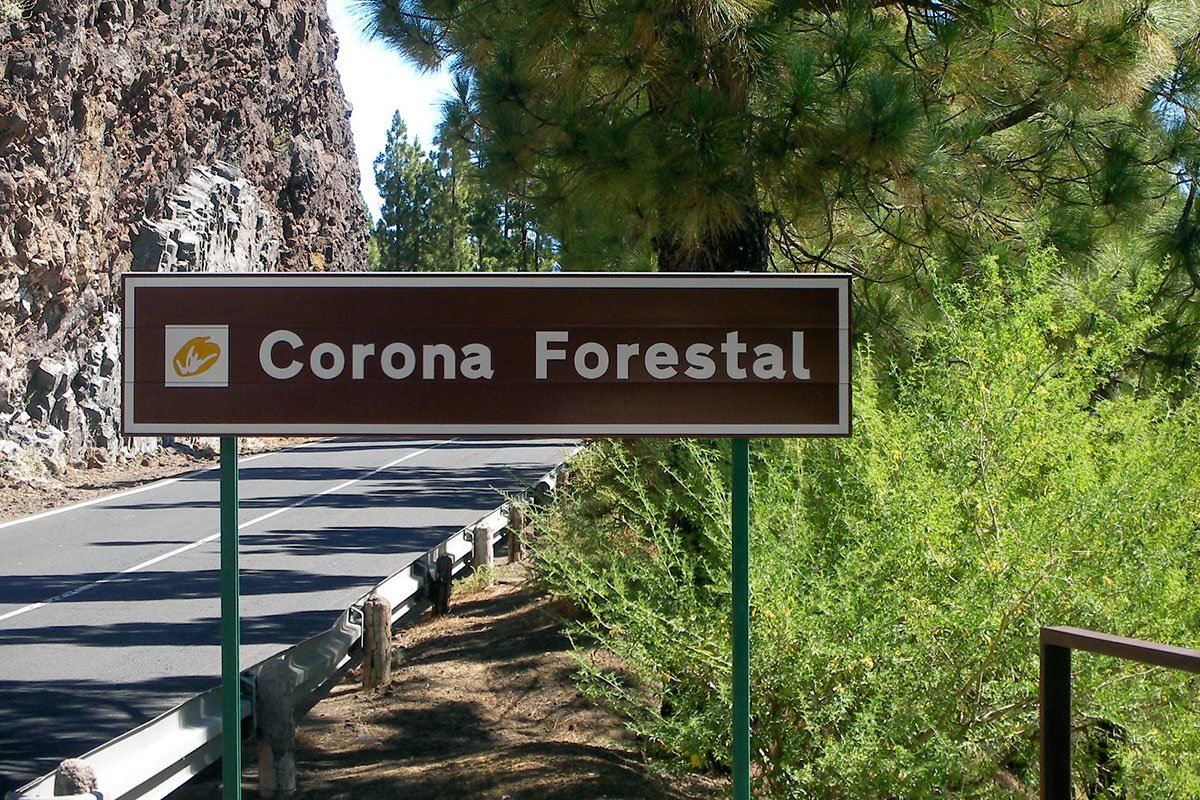 More about Corona Forestal Natural Park