Las Vistas beach could be considered an urban beach, as it is located in the heart of Los Cristianos, one of the most touristic places in the south of Tenerife.
It is a wide, calm water beach, easily accessible for all types of people and carts, surrounded by a beautiful avenue with restaurants, small supermarkets, souvenir shops and other types of businesses.
The beach is almost a kilometer long, so it is also ideal for long walks in the sun and by the sea. If you feel like resting or having a snack, you can do so in its multiple kiosks and beach bars.
Due to all these characteristics, Las Vistas beach is ideal for families and all types of public. It is a very crowded beach and is visited by both residents and a large number of tourists who stay in nearby hotels and apartments.
For greater safety, both for adults and children, it has a rescue station. In addition to multiple services.
¿What services does Las Vistas beach offer?
It is an accessible beach, with access ramps for baby carriages, wheelchairs and people with reduced mobility.
On the beach you can find litter bins, showers, kiosks and bars, rental of umbrellas and hammocks.
The beach has public toilets and a rescue booth, the base of the lifeguards who are committed to the safety of beach users.
In the lively avenue that surrounds the beach you can also find small supermarkets, restaurants and souvenir shops.
Near the beach you can find parking areas, as well as a tourist information booth.
¿How to get to Las Vistas beach?
Getting to Playa de las Vistas is easy in the sense that it involves reaching the town of Los Cristianos and heading towards the coast or towards the Port of Los Cristianos.
By car you must take the southern highway (TF-1) and take exit 72 towards Los Cristianos. You will see signposted the routes that you will have to take to go to the area of the beaches or the port.
By bus, if you are outside the municipality you can take one of the lines that pass through the Los Cristianos bus station. From Santa Cruz you can take line 111. From Costa Adeje, lines 110, 111 or 342.
If you want to avoid parking problems and get there quickly, the best option is to take a taxi, whether you are in the Los Cristianos / Las Américas area but some distance from the beach area, or if you are in a nearby town such as Costa Adeje, Golf del Sur, Las Galletas…
Weather for the next days
Los Cristianos, Spain
More images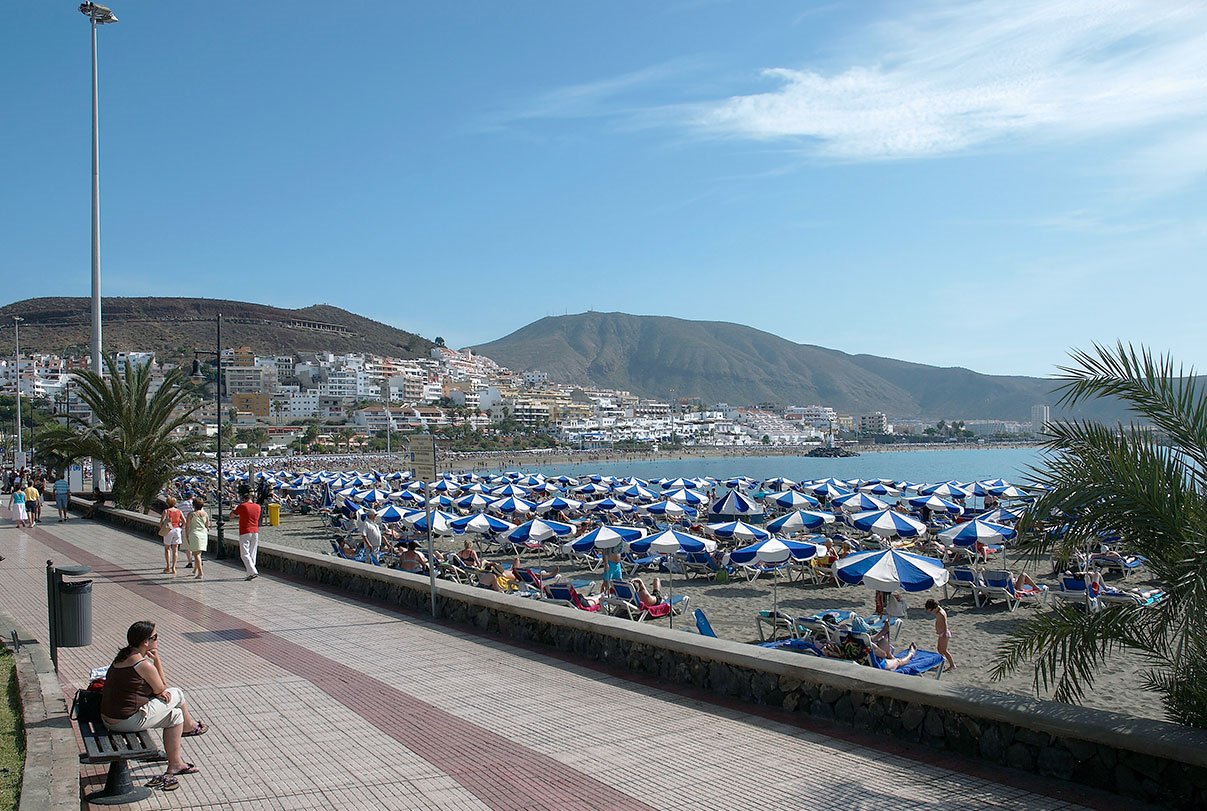 More about Las Vistas beach