Las Teresitas is one of the most popular beaches in Tenerife, one of the busiest and most used by the inhabitants of Santa Cruz de Tenerife, the capital of the island.
Located in the town of San Andrés, about 6 kilometers from the town of Santa Cruz, this beach has golden sand and very calm waters due to its breakwater.
It is a beach artificially transformed in the 1970s, with sand brought from the Sahara desert. It has been rehabilitated and reconditioned several times.
The beach is approximately a kilometer and a half long, and a great width that varies according to the level of the tide. On the beach you can find natural palm trees under which to be sheltered from the sun.
Due to its calm waters, proximity to the city, ease of access, public transport, the maritime restaurants of San Andrés and various other services, it is one of the preferred beaches by the inhabitants of the city and also by tourists. Ideal for families, couples and groups of friends.
In recent years it has been equipped with improvements in services, being able to also practice sports such as beach volleyball, paddle surfing, kayaking…
The beach has a Red Cross lifeguard post, which has adapted vehicles for bathing people with mobility problems.
It has a large parking lot along the entire beach, as well as beach bars right on the sand where you can eat and drink.
What services does Las Teresitas beach offer?
It is one of the beaches with the largest number of services.
You can find a large number of parking lots, bus stops, food and drink beach bars, rental of hammocks and Balinese beds.
Every few meters there are entrances, some of them adapted for people with reduced mobility, with showers and changing rooms.
In the sand, in the middle of the beach, you can find litter bins.
The beach is patrolled daily by lifeguards and members of the local police. It also has a Red Cross lifeguard and first aid post.
You can practice diving, freediving, paddle surfing, kayaking… being able to rent material if you don't have it.
How to get to Las Teresitas?
While in Santa Cruz you can take the highway to the town of San Andrés (TF-11), which starts in the lower area of the city (near Plaza de España, Avenida Francisco La Roche…). You will find the beach after the town.
There is a bus service that connects the exchanger (central bus station) with San Andrés and the beach itself. This is line 910, which has a high frequency of passage throughout the day.
If you are not in the vicinity of the lower area of the city where the bus passes to San Andrés, you can make the trip by taxi, as it is not a long journey and it does not leave the municipality of Santa Cruz.
Weather for the next days
Santa Cruz de Tenerife, Spain
More images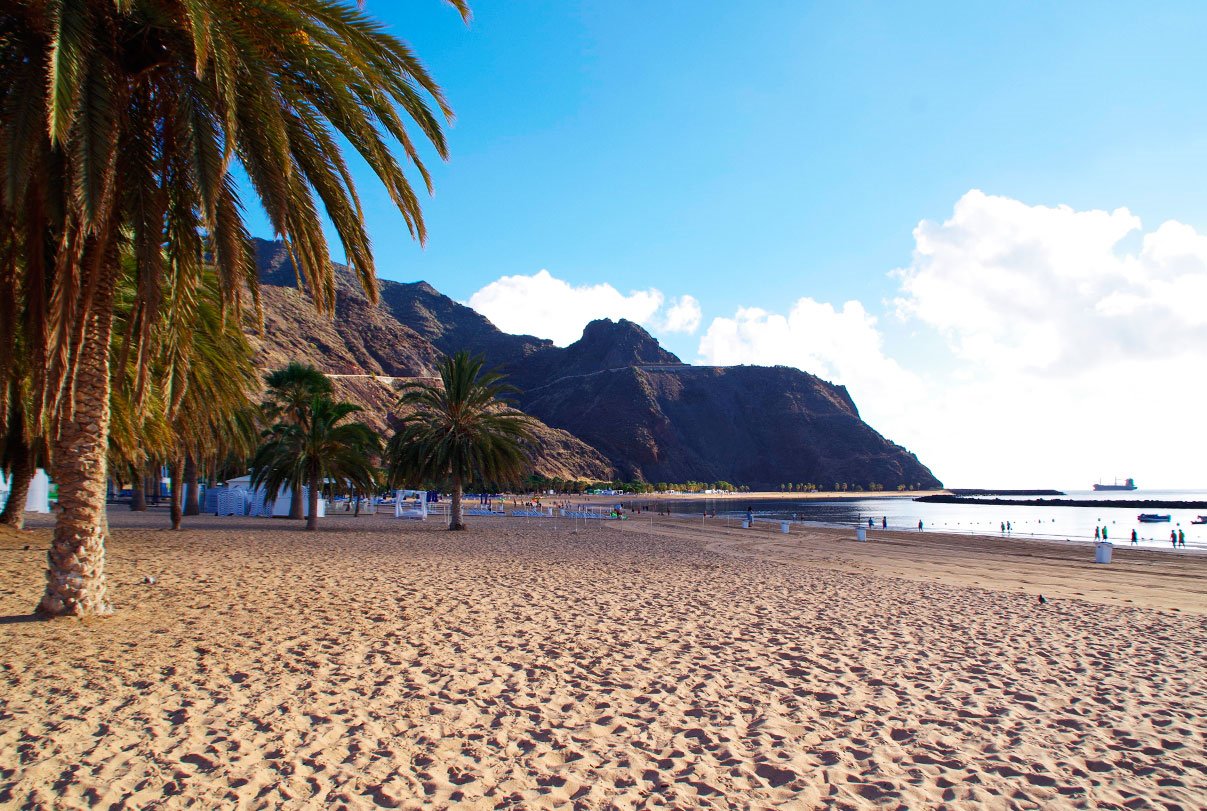 More about Las Teresitas beach