El Médano is a coastal town belonging to the municipality of Granadilla de Abona.
It is a very popular area on the island for its beaches and for being one of the few places enabled to practice sports such as windsurfing or kitesurfing, given that the necessary wind and tide conditions are often present for the practice of these sports.
The main beach of El Médano is located in the very core of the town. It is the most familiar area and with less waves, in which there is usually also a lifeguard waiting for bathers.
From this area we can go along the maritime avenue towards the farthest part of the beach.
On the same maritime avenue and in the center of town we can find a large number of restaurants, bars, cafes and various shops, as well as all kinds of services. We can even rent material or receive introductory classes in some water sports.
Depending on the state of the tide, the appearance of the beach and the area of sand available varies greatly. At high tide, the sea is quite close to the very edge of the avenue, leaving a few meters of width available to locate towels and other items. At low tide the beach can reach a width of about 40 meters at some points.
The beach is accessible on foot and has access for people with reduced mobility.
El Médano is a widely frequented area, where the weather is generally sunny and with good temperatures.
Tourists often stay or visit this area a lot, also because of its proximity to the Tenerife Sur Airport, which is a few kilometers away.
Apart from the main beach that starts from the same town, El Médano has other beaches and coves where you can enjoy the sand and the sea.
Between the center of El Médano and Los Abrigos, you can also find La Tejita beach, next to the Montaña Roja Special Nature Reserve. It is a quiet and spacious beach of one kilometer in length.
Towards the other end of El Médano (in the direction of Santa Cruz) you can also find other coves and small beaches, such as La Jaquita or El Salado beach.
What services does El Médano offer?
In this town you can find accommodation, either in a hotel or in holiday homes.
The town has several supermarkets and minimarkets, restaurants, cafes, bars, clothing and souvenir shops, as well as equipment rental shops and sports classes such as windsurfing or kitesurfing.
The main beach has nearby litter bins, freshwater showers, and access for people with reduced mobility.
How to get to El Médano?
By road, take the southern highway (TF-1) and take exit 55 (km. 55) towards San Isidro / El Médano. After taking that exit there is a detour that leads to the TF-64 highway, which goes down towards the coast and leads directly to El Médano, a distance of about 4 km.
Due to its proximity to Tenerife Sur Airport, many tourists book a taxi transfer directly from the airport to El Médano, as it is a short journey. Similarly, if you are in a nearby town, the fastest and most comfortable is the taxi.
By bus, if you come from the airport or from a municipality further south on the island, you can take line 470 that leaves from Los Cristianos. If you come from Santa Cruz or an area closer to this town, you can take any line that stops in San Isidro (such as line 110 if you come from Santa Cruz), and once in San Isidro take line 408 that goes down to El Médano.
Weather for the next days
El Médano, Spain
More images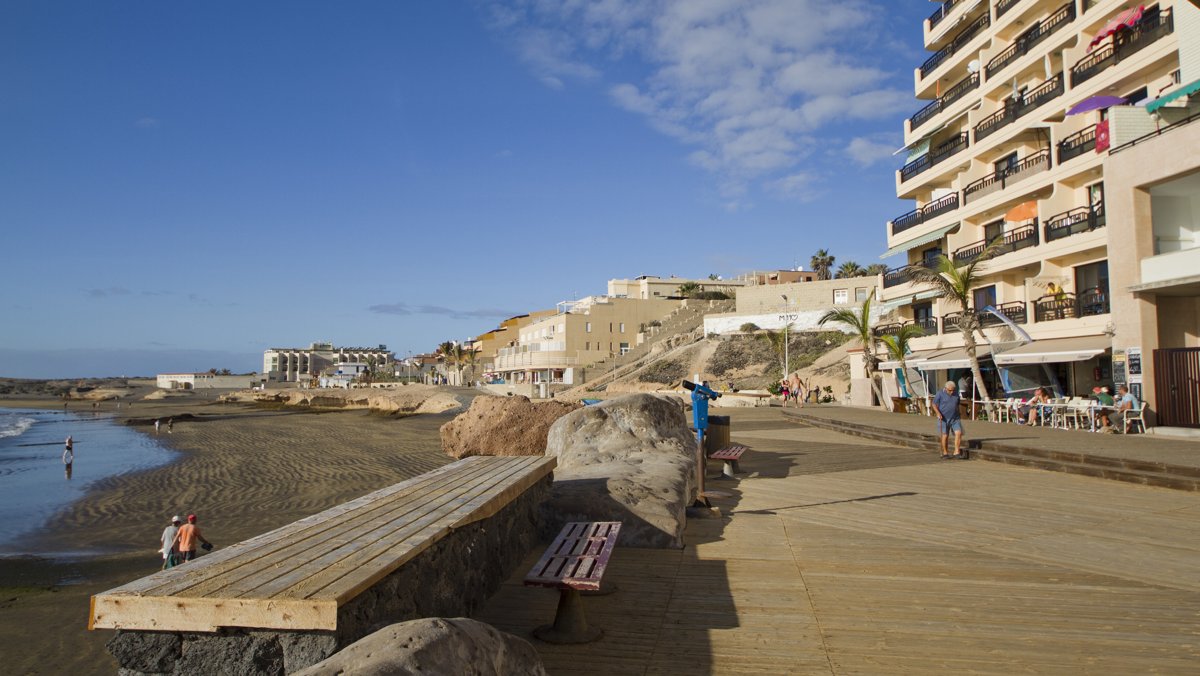 More about El Medano