Also known as the Costa Martiánez Leisure Complex, it is a set of swimming pools by the sea, surrounded by gardens and an open-air sculpture museum.
It is located in the heart of Puerto de la Cruz, in the north of the island of Tenerife.
It is a design and a work by the Lanzarote artist César Manrique.
It occupies an area of about 100,000 m2, in which we can find a large artificial lake, along with other pools, both for adults and shallow ones for children.
With volcanic stone always the protagonist in the environment, the complex has promenades, terraces, restaurants, a casino, gardens, views of the sea and Teide volcano, as well as several mobile and fixed pieces of art by César Manrique.
It is a complete leisure center for the whole family, with the sea, the sun, the water and art as protagonists.
It has been declared an Asset of Cultural Interest under the category of Historical Garden.
Since it was inaugurated in 1977, it has been one of the hallmarks of Puerto de la Cruz in particular, and of the island of Tenerife in general.
The complex opens daily until approximately 6:00 p.m., depending on the season of the year. The entrance for tourists and non-residents costs about €5.5 for adults and about €2.5 for children. Residents have a lower price.
When you buy your tickets at the entrance, you can also rent umbrellas and hammocks.
What services does Lago Martiánez offer?
Many and very varied.
Within the complex you will find bathrooms, showers, changing rooms, bins…
It has a surveillance service and lifeguards permanently.
To eat or have a snack, you will find several kiosks and restaurants within the complex.
It also has a rental service for sunbeds and umbrellas.
How to get to Lago Martiánez?
If you are already in Puerto de la Cruz, just go on foot, by bus or taxi to the area of the coast where it is located.
If you are in another part of the island and you go by car, you should drive along the north highway (TF-5) and preferably take the exit at km 32, or one of the other exits towards Puerto de la Cruz, and head towards the coastal area of Martiánez. At Las Pirámides Shopping Center you can find paid parking if you have difficulties parking in the area.
By bus, you can take line 100 (express service) to Puerto de la Cruz, or also lines 102 or 103. If you are in the south of the island, you will first have to go to La Laguna or Santa Cruz, and from there take any of these lines.
If you are in municipalities located further north such as Buenavista del Norte, Garachico, San Juan de la Rambla or Icod de los Vinos, you can take bus line 363. From La Orotava line 345. And from Los Realejos line 353 or 390.
Although the most comfortable thing if you are in these northern municipalities is to take a taxi, since the routes of some of these bus lines are not direct and take a long time.
In addition, with a taxi you save having to look for parking (something very complicated in the area) or pay to park in a private parking lot.
Weather for the next days
Puerto de la Cruz, Spain
More images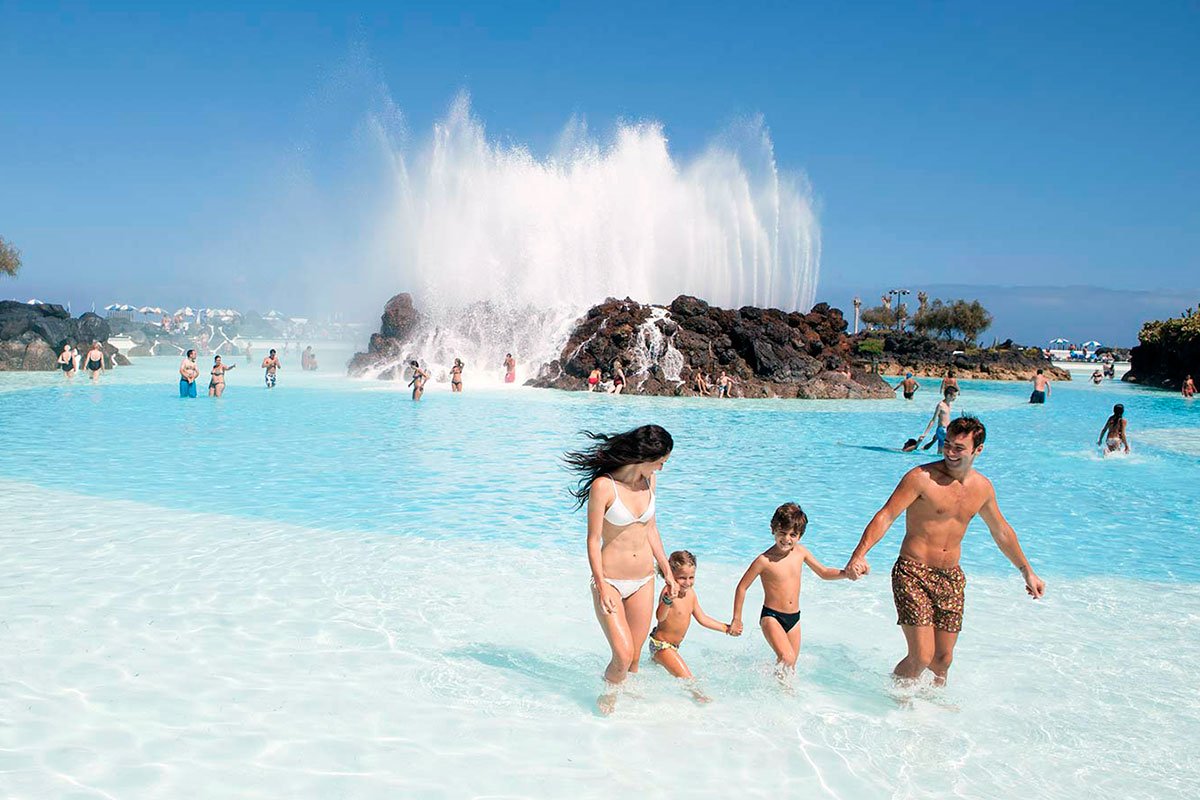 More about Lago Martiánez